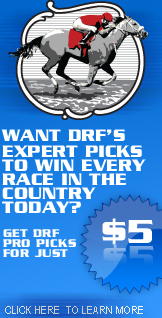 Help: How To Use DRF
---
Free Information to Help You Win
Wagering & Winning - Pdf (1,989k)
Learning to analyze the past performances in the Form is a very individual process. There are no inherently "correct" ways to handicap, and lifelong devotees say they learn something new every day. This booklet's aim is not to pick winning horses but to explain the fundamentals so that you can start picking your own winners and feeling rightfully proud when you do. This informative tool is great for beginners, as well as those looking to improve their handicapping abilities.
Requires Adobe Acrobat Reader.

Learn to Read Daily Racing Form
Learn to read DRF past performances with our interactive tutorial.
Tutorial requires Flash plugin.