Daily Racing Form gives you 3 types of Past Performances to help you win.
To see a list of all DRF.com past performance options, Click here.


The new and simple way to play the races
Daily Racing Form's exclusive EasyForm Past Performances are the perfect way for casual and new horseracing fans to play the races.
Based on the Classic past performances found in the print edition of Daily Racing Form, EasyForm gives you a brief history of each horse running in a race. EasyForm PPs include exclusive Beyer Speed Figures, DRF expert selections, hot stats, probable odds, running styles, race recaps, and more. Learn More »
Features:
Easy-to-read format
Exclusive Beyer Speed Figures
DRF Expert Picks & Analysis
Hot Stats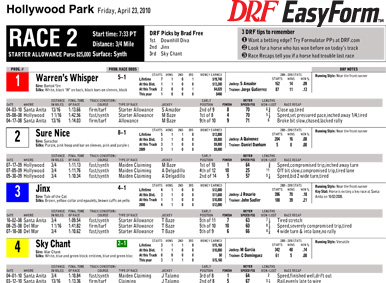 DRF's State-of-the-Art Web-based PPs
Formulator gives you access to the past performances for any North American track on any day. The past performances will look exactly the same as you're used to seeing them in the print edition of Daily Racing Form, however you'll have the option to alter their appearance to your preferences. You can view incremental splits instead of elapsed times, merge a horse's workouts into running lines, view live odds or morning line odds, and more. You can also add personalized horse and trip notes, look at entire workout tabs, and get access to basic trainer stats.
Deluxe Formulator PPs give you everything above, plus: Video replays, Moss Pace Figures, access to TicketMaker, the Trainer Patterns Tool, instant access to each horse's last five result charts, and access to the Sibling Summary Report. Learn More »
Features:
Video Replay Instant Access
Live Odds
TicketMaker Program
Moss Pace Figures
Trainer Patterns
Lifetime PPs in Charts & in the Trainer Patterns Tool
Full Manipulation of PPs
Extended Chart Archive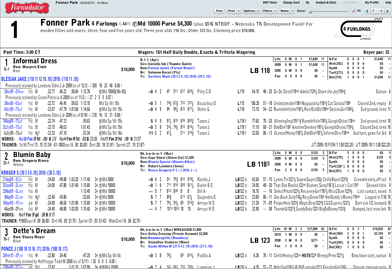 Our Print PPs in a PDF Format
An exact replica of the newspaper "look and feel." Perfect for the daily newspaper reader who has just migrated online! If you are comfortable with the traditional look of Daily Racing Form past performances, you can purchase our classic PPs. You simply choose the racecard you would like to purchase, download it, and in seconds, you're looking at the same PPs you see in the printed version of Daily Racing Form. A single racecard costs $2.95. Long-term subscription plans are available with extensive discounts for purchasing in bulk.
Features:
Same "look and feel" as the print version of Daily Racing Form.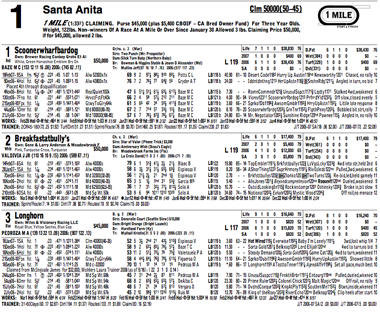 Need help choosing a membership level that works for you? Start here »
For Premium News and Handicapping Products Click here »