Stand-Alone Moss Pace Figure Report
The Stand-Alone Moss Pace Figure Report is available every day for all tracks currently offering Moss Pace Figures. It provides Moss Pace Figures for each horse on that day's racecard. (See a sample)
Note: Moss Pace Figures are not calculated for turf races, and have not yet been calculated for all North American Tracks. So, in certain horses' running lines, you will not see Moss Pace Figures (depending on where the horse ran, and what surface he ran on).
---
How to read the Stand-Alone Moss Pace Figure Report
The "Race Fractions" are the same fractions you would see in the standard past performances. They are the fractions of the lead horse, not the individual fractions of the horse in question.
The "Pace Line" shows the Moss Pace Figures for the horse in question. Each point of call in the past performances will have a corresponding pace figure. Please see the chart below: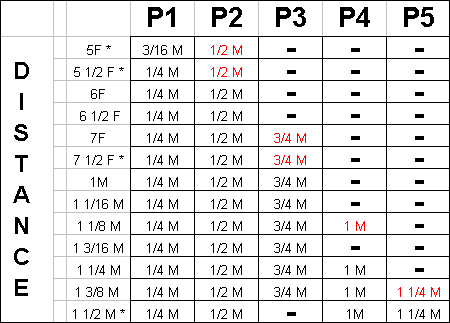 * Please Note: for 5 F and 5 1/2 F races, the 3/8 M point of call is ignored and the 5/8 M stretch call (approximate for 5 1/2 F) is used instead for P2. For 7 1/2 F races, the 3/4 M stretch call used in P3 is approximate. For 1 1/2 mile races, 3/4 M is not recorded as a point of call, so there is no P3. Stretch calls are in red.
The numbers in the Pace Line (P1, P2, P3, etc.) represent the horse's individual Moss Pace Figures at each point of call, and his Final Time Pace Figure (PF). The Final Time Pace Figure is simply that horse's Beyer Speed Figure converted to the Moss Pace Figure Scale.
The "Race Shape" Line gives you the Moss Pace Figure of the lead horse at each point of call, along with a relationship to par for that race. The superscript numbers tell you how far ahead or behind par the lead horse was running. So, if you see a Pace Figure of 82 -3 at the second call in a one-mile race, you know that the lead horse was running three points slower than par at the half-mile mark.
The "Race Shape Progression" Line takes internal fractions into consideration and gives you a brief look at the way the race was run.
The Stand-Alone Moss Pace Figure Report costs $2.00 per report, although there are monthly, quarterly and annual plans available which offer significant bulk discounts. Additionally, if you purchase a racecard in the form of a Moss Pace Figure-Enhanced PDF, or a Formulator 4 racecard, you can view that racecard's Stand-Alone Moss Pace Figure Report at no additional charge.
Please e-mail mosspacefigs@drf.com with any questions.